Asustor NAS - AS204T
Asustor NAS - AS204T
4 Bay Network Attached Storage
An economical data storage server Optimal price / performance ratio Manage your data using File Explorer's Web-based interface Listen to your music with Web music player SoundsGood Support for RAID 0, 1, 5, 6, 10 and hard drive hot swapping...
Category:

Home Electronics, On Sale
An economical data storage server
Optimal price / performance ratio
Manage your data using File Explorer's Web-based interface
Listen to your music with Web music player SoundsGood
Support for RAID 0, 1, 5, 6, 10 and hard drive hot swapping
Support for a variety of mobile apps from ASUSTOR
Energy efficient and quiet operation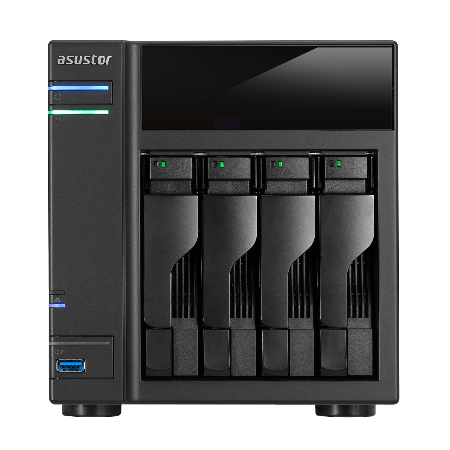 Better Price, Better Performance
ASUSTOR's ADM operating system combined with an Intel processor allows the 2 series to raise read and write performance to the max.
The 2 series also provides a total of 4 USB ports (2 x USB 3.0, 2 x USB 2.0) allowing you to simultaneously connect up to 4 external USB hard drives to expand your storage capacity.
Furthermore, AS-2TE series comes equipped with an HDMI port and audio jack allowing your NAS to transform into a multimedia player!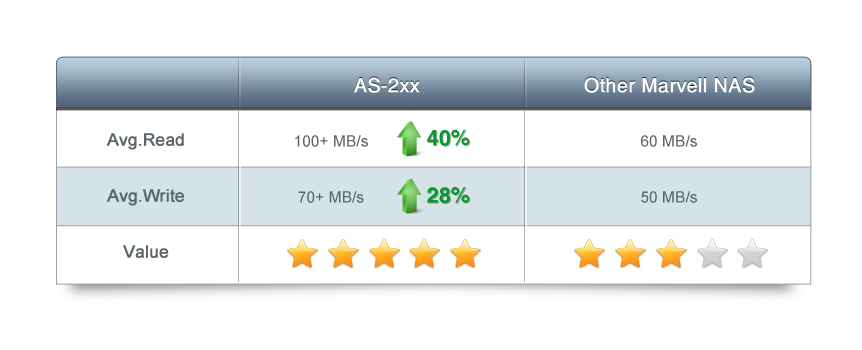 Quick and Easy File Access
The built-in File Explorer App allows you to access the files on your NAS through a Web browser. Enjoy drag and drop file transfers along with a directory structure view that lets you easily organize your data. Accessing files on your NAS never been easier.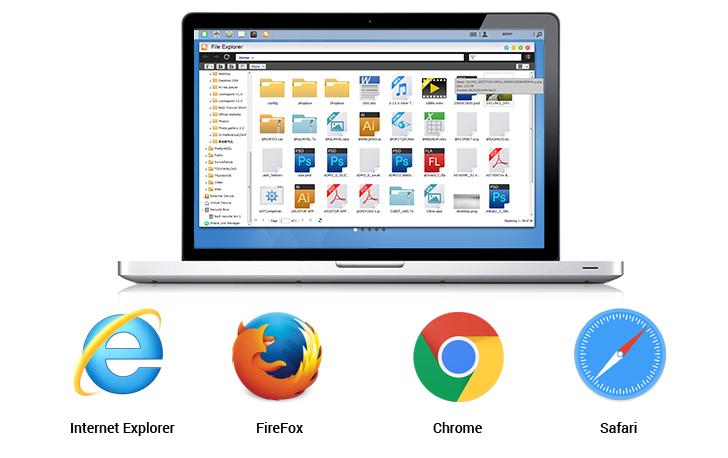 Backup Everything
No matter if you are using Windows, Mac or even Linux, ASUSTOR provides you with suitable backup solutions and protocols to help you backup all your data.
Windows Environment ASUSTOR's exclusive Backup Plan utility lets you configure up to 6 different backup plans simultaneously. You can configure regularly scheduled backups of your important data and also sync the ever-changing files on your desktop to your NAS.
Mac Environment
ASUSTOR NAS supports Apple Time Machine backups allowing you to backup your Mac to your NAS. Different Mac users can also safely backup their computers to the same ASUSTOR NAS device.
Linux Environment
ASUSTOR NAS supports NFS/Rsync/SAMBA protocols giving you added flexibility when setting up your backup environment.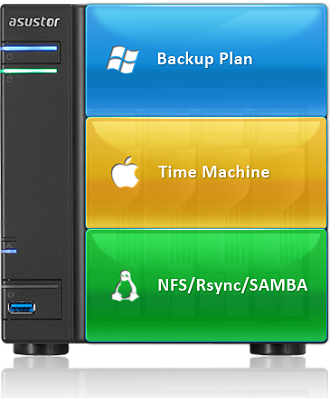 The NAS That's Always With You
ASUSTOR offers multiple mobile apps that give you convenient access to your NAS while on the go. Cloud data access from anywhere: AiData Browse all the data on your NAS and even instantly share files from your NAS with friends. One stop searching and downloading: AiDownload Monitor any current download tasks on the NAS. As soon as download tasks are finished, your mobile device will be notified via push notification. Stay up to date with your NAS: AiMaster Via push notifications, you can always get a handle on your NAS system and backup status. Shutting down your NAS is also a breeze with AiMaster. Your NAS multimedia player remote: AiRemote Your mobile device can now become your remote control! Sit back and relax on your couch while you control media playback from your NAS with your mobile device.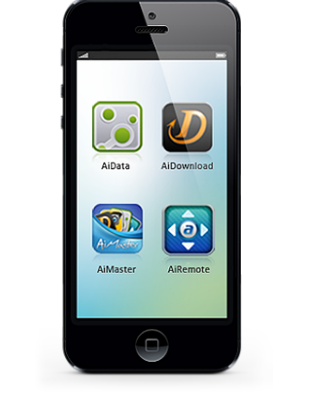 Your Cloud, Your Size
ASUSTOR NAS features RAID technology which allows you to combine multiple hard disks into a single logical storage volume giving you both storage and data protection benefits. ASUSTOR NAS also supports online hard disk capacity expansion allowing you to swap in higher capacity disks while enjoying complete access to all your data.
RAID levels supported by ASUSTOR NAS: RAID 0/1/5/6/10
RAID levels that support online capacity expansion: RAID 1/5/6/10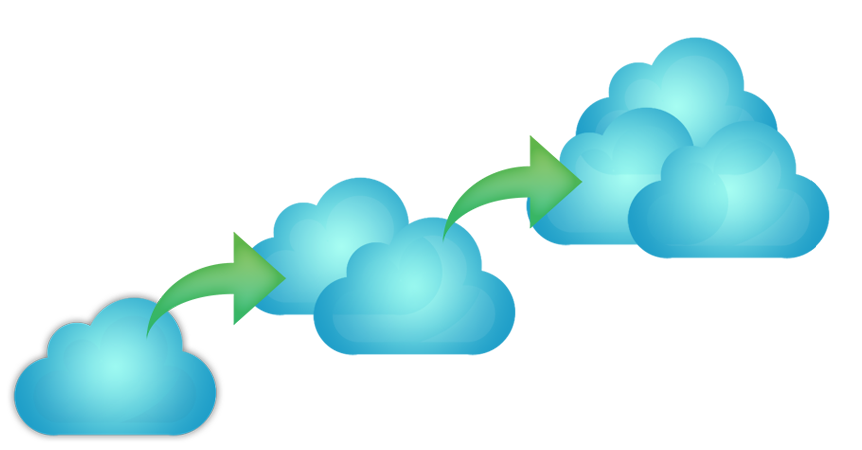 Specifications
CPU: Intel® ATOM™ 1.2GHz Dual-Core Processor
Memory: 512MB DDR3
HDD: 2 x SATA2 3Gb/s, 2 x SATA3 6Gb/s; 3.5"/2.5" HDD/SSD Compatibility
Maximum Internal Raw Capacity: 40 TB  (10 TB HDD X 4, Capacity may vary by RAID types)
Maximum Single Volume Size: 16TB
Supports Hot Swappable Drives
Expansion: USB 3.0 x 2, USB 2.0 x 2
Network: Gigabit Ethernet x 1
Output: N/A
System Fan: 120mm x 1
Power Supply Unit / Adapter: 150W x1
Input Power Voltage: 100V to 240V AC
Certification: FCC, CE, VCCI, BSMI, C-TICK

Operation
Power Consumption: 34W (Operation);
21.5W (Disk Hibernation);
0.8W (Sleep Mode) ²
Noise Level: 19.4dB (HDD idle)
Operation Temperature: 0°C~40°C (32°F~104°F)
Humidity: 5% to 95% RH
ASUSTOR Hightlight
System Migration
Cloud Connect
Dr.ASUSTOR
2-way Backup
Task Monitor
Eco-Friendly Design
System Automatically Enters Sleep Mode (Schedule S3)
Auto-Standby for Both Internal and External Disks
Auto Fan Control
LED Night Mode
Power Schedule: On, Off, Restart, and Sleep..

Size and Weight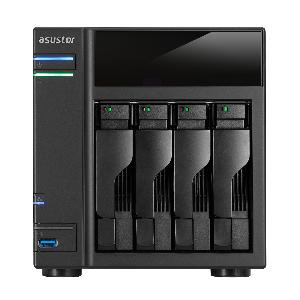 Operating System

ADM 2.6 Onwards
Supports Online Firmware Updates
Supported OS
Windows XP, Vista, 7, 8, 10, Server 2003, Server 2008, Server 2012
Mac OS X 10.6 Onwards
UNIX, Linux, and BSD



Supported Languages
Deutsch, English, Français, Italiano, Nederlands,Русский, 日本語, 한글, 简体中文, 繁體中文, Česká,Polski, Svenska, Dansk, Norsk, Suomi, Português,Türkçe, Español, Magyar
Supported Browsers
Internet Explore 11 Onwards
FireFox
Chrome
Safari
Microsoft Edge
Network Protocols
CIFS / SMB, SMB 2.0 / 3.0, AFP, NFS, FTP (Unicode Supported), TFTP, WebDAV, Rsync, SSH, SFTP, iSCSI/IP-SAN, HTTP, HTTPS, Proxy, SNMP, Syslog
File System
Internal Disk: EXT4
External Disk: FAT32, NTFS, EXT3, EXT4, HFS+
Storage Management
Support Multiple Volumes with Spare Disks
Volume Type: Single disk, JBOD, RAID 0, RAID 1, RAID 5, RAID 6, RAID 10
Support for Online RAID Level Migration
Support for Online RAID Capacity Expansion
MyArchive
Insert Hard Disk & Immediately Access Files
Transfer or Exchange Terabytes of Data via the Internal Hot-Swap SATA Interface
Up to 2 Bays Reserved for MyArchive Docking Purposes
iSCSI Read/Write (5GB file, 1GbE x 1)/IP-SAN
Maximum Targets: 256
Maximum LUNs: 256
Maximum Snapshot Versions of a Single LUN: 256
Target Masking
LUN Mapping
ISO File Mounting
Supports MPIO
Persistent (SCSI-3) Reservations
Customized Sign In Page
2 Different Template Choices
Customizable Title, Imageand Background
Image Import Function
Disk Management
Scheduled Bad Block Scans
Scheduled S.M.A.R.T Scans
Energy Control
Configurable Disk Hibernation and Sleep Mode Wait Time
Configurable Time Period for Sleep Mode Activation
Automatic Sleep
Network
TCP/IP (IPv4 & IPv6)
Link Aggregation: 0
Jumbo Frame (MTU)
VLAN
Cloud Connect
Wireless Network³
DDNS and EZ-RouterCompatibility
Supports Wake-on-LAN (WOL)
Backup Solutions
Rsync (Remote Sync) Backup
Cloud Backup
FTP Backup
External Backup
Internal Backup Using Internal High Speed SATA's 6GB Bandwidth to Back up to MyArchive/Volume
One Touch Backup
System Administration
Log Type: System Log, Connection Log, File Access Log
Real-time Online User Monitor
Real-time System Monitor
User Quota
Virtual Drive (ISO Mounting, Maximum 16)
UPS SupportCompatibility
Network Recycle Bin
Share folder-based
Maintains original directory structure and file permission
On-click restore
Supports scheduled emptying
Filtering rules

File size
File extension
Access Control
Maximum Number of Users: 4096
Maximum Number of Groups: 512
Maximum Number of Shared Folders: 512
Maximum Number of Concurrent Connections: 512
Supports Windows Active Directory
ACL
Provides both Windows ACL and Linux ACL permission configuration methods
Can enable Windows ACL for specific shared folders
Comprehensive support for Windows' 13 types of advanced permission settings
Can view Windows ACL permission settings from within ADM
Supports local users and groups
Exclusive permission reset function allows users to quickly restore default permissions
Security
AES 256-Bit Encryption
Firewall: Prevent Unauthorized Access
Alert Notifications: E-mail, SMS
Encrypted Connections: HTTPS, FTP over SSL/TLS, SSH, SFTP, Rsync over SSH
Built-in Hardware Encryption Engine: AS70/61/62/31/32/10 Series
Network Defender
Auto black list
Trusted list
Black/White list

Supports IP/IP range/geolocation
Supports USB/eSATA3 External Storage Devices
USB Wi-Fi Dongle Support
Bluetooth Dongle/Speaker Support
USB Printer Support
USB DAC/IR Receiver/Keyboard/Mouse Support
CD ROM Drive/DVD ROM Drive/Blu-Ray ROM