Creative Sound Blaster i-ROAR Speaker
Creative Sound Blaster i-ROAR Speaker
Wireless Speaker with Custom Audio Profiles
Features Staying true to the Sound Blaster Roar Heritage, the Creative iRoar is an intelligent portable Bluetooth® speaker that continues to live up to the critically acclaimed sound signature and battle the laws of the acoustic engineering by packing all...
Category:

08 - Creative, On Sale
Features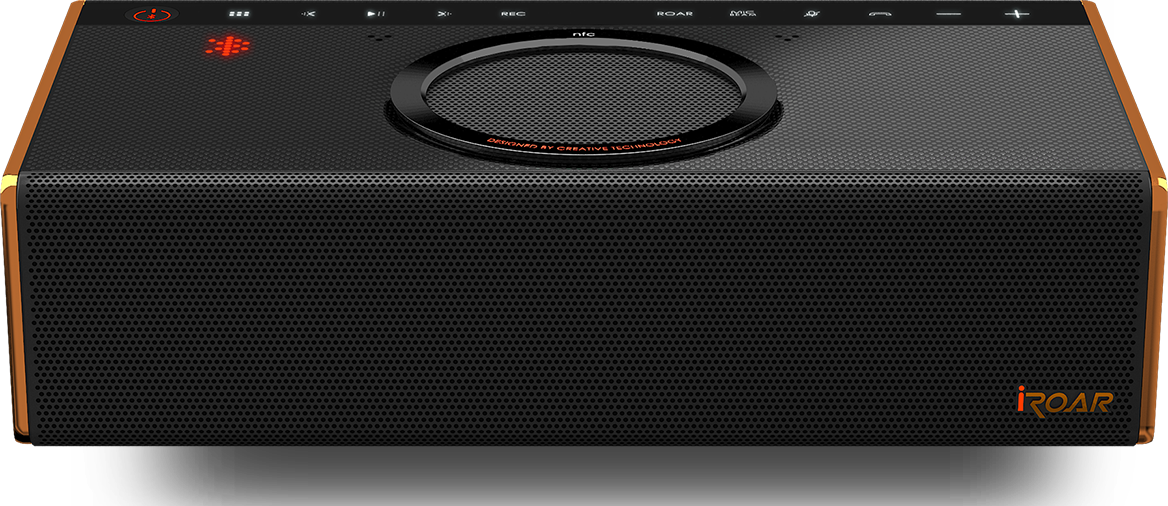 Staying true to the Sound Blaster Roar Heritage, the Creative iRoar is an intelligent portable Bluetooth® speaker that continues to live up to the critically acclaimed sound signature and battle the laws of the acoustic engineering by packing all the awesome components and technology within a compact enclosure, no larger than the size of a booklet.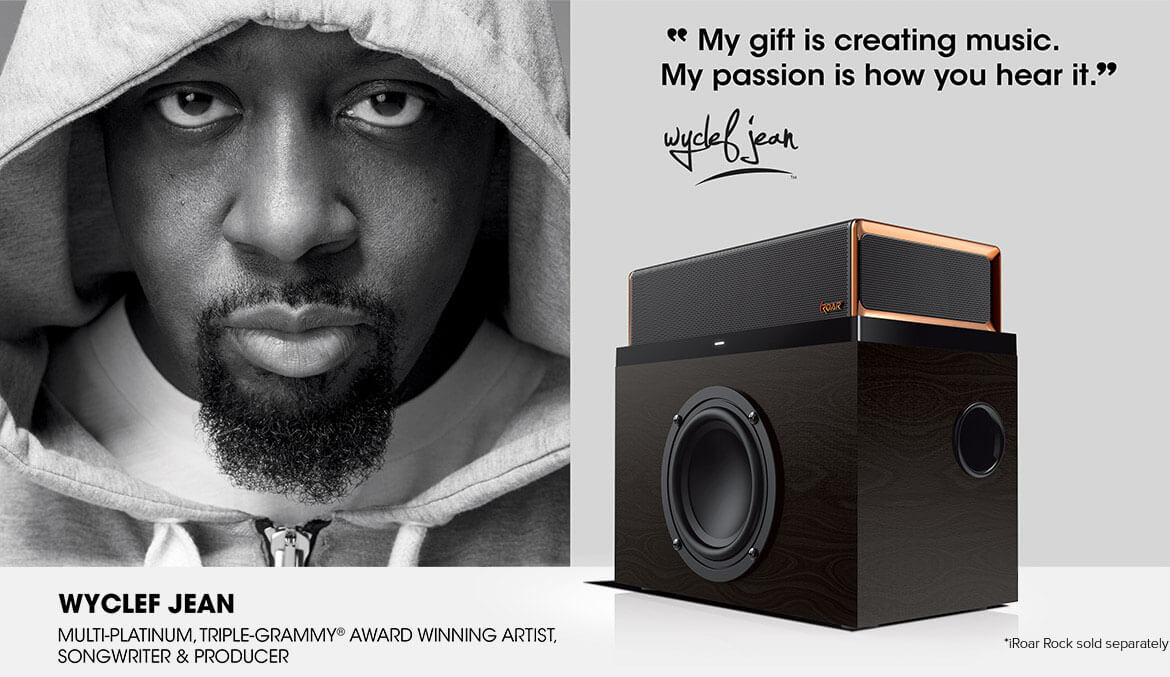 ACCOLADES
CES 2016 Innovation Awards Honoree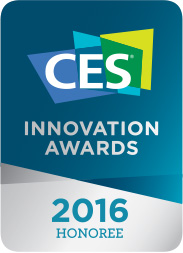 The Creative iRoar has been named a CES 2016 Innovation Awards Honoree product in the Home Audio/Video Components and Accessoriescategory. The speaker will be showcased at CES 2016 - the world's largest consumer electronics show.
Raising the bar for high performance audio and customisation capabilities, you can customise the functionality of the iRoar, simply by coding your own Add-ons and repurposing the iRoar to exactly the way you want it to function.
Check out the features of the Creative iRoar at a glance. Click on the icons below for the relevant section.
BLASTERX ACOUSTIC ENGINE
BlasterX Acoustic Engine for iRoar
Expect the perfect blend of architecture and intelligent software to deliver great audio beyond your imagination.
The BlasterX Acoustic Engine is designed to boost the acoustic performance of your audio for your heightened listening experience.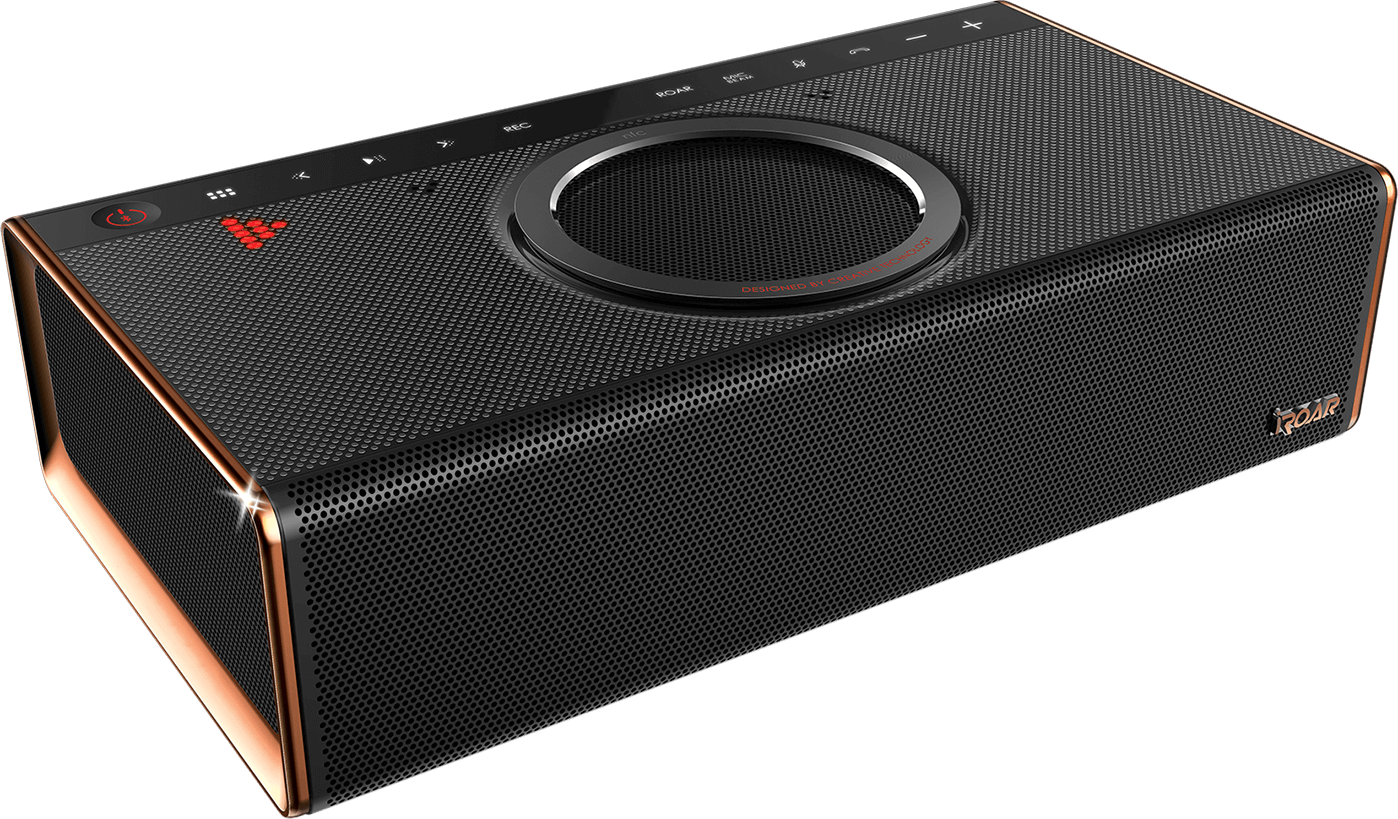 CUSTOMIZATION
Intelligence Meets Customization
iRoar Dashboard
The iRoar is not just a powerful speaker; it is also an intelligent one. Most Bluetooth speakers allow for audio streaming from your smart devices. With the iRoar and the iRoar Dashboard app for iOS and Android, you can personalise your audio.
And that's exactly where the iRoar is headed. Its features and functions are fully accessible via the Dashboard app, so you feel like you're interacting directly with your audio.
Customisation is the name of the game - from the equaliser to the level of immersion and clarity of your audio. Take joy in creating your own sound signature wherever you go.
The Dashboard app saves your most recent configuration. When you pair with another iRoar speaker, your personalised configuration will be automatically loaded into that iRoar!
You can make on-the-fly adjustments seamlessly!
SPEAKERPHONE
Your Personal Speakerphone with Mic Beam Technology
Be heard loud and clear with the iRoar's beamforming microphones.
The Mic Beam technology features two modes that let the speaker pick up sound all around the speaker and within a certain parameter.
The 360° mode captures sound all around the speaker, no matter where you are. Alternatively, the Private mode reduces what you don't want to hear. It focuses on picking up sound within a predefined acoustic zone so sounds within this zone will be isolated from your surroundings.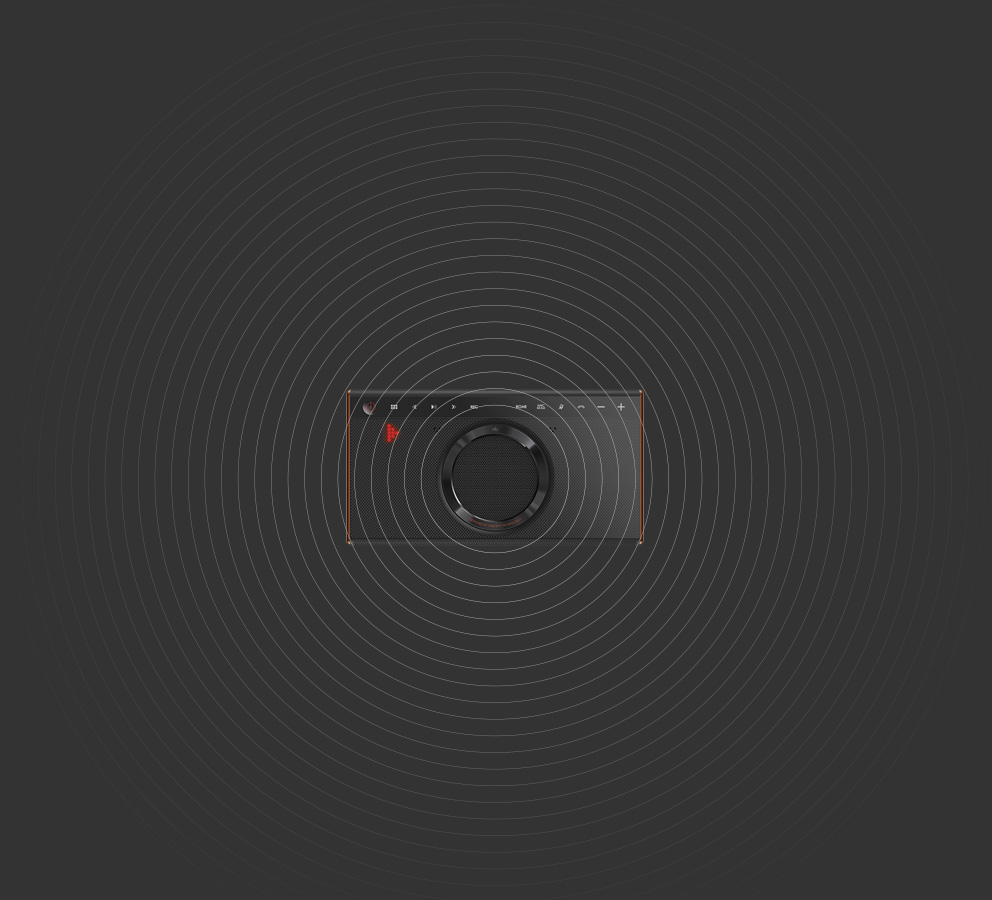 REMOTE
Your iRoar Remote Assistant
Turn your Android phone or iPhone into an iRoar remote control with the Remote Assistant app!
Apart from performing music playback from your phone's media library, the app also allows you to access audio content stored in the microSD card in your iRoar.
The best part is, you can view the current track playing from your microSD card - on your smartphone!
Your Personal Recorder
You can remotely trigger iRoar to record via the app and save your audio sessions into the microSD1 card.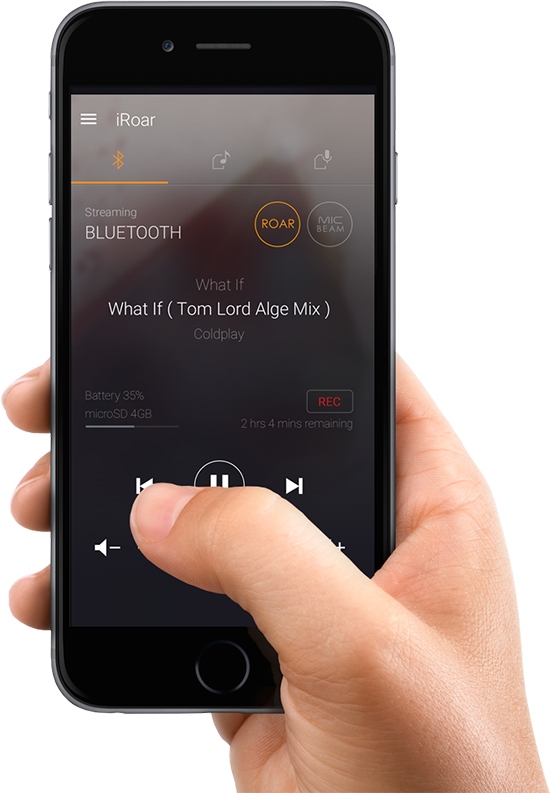 5-DRIVER DESIGN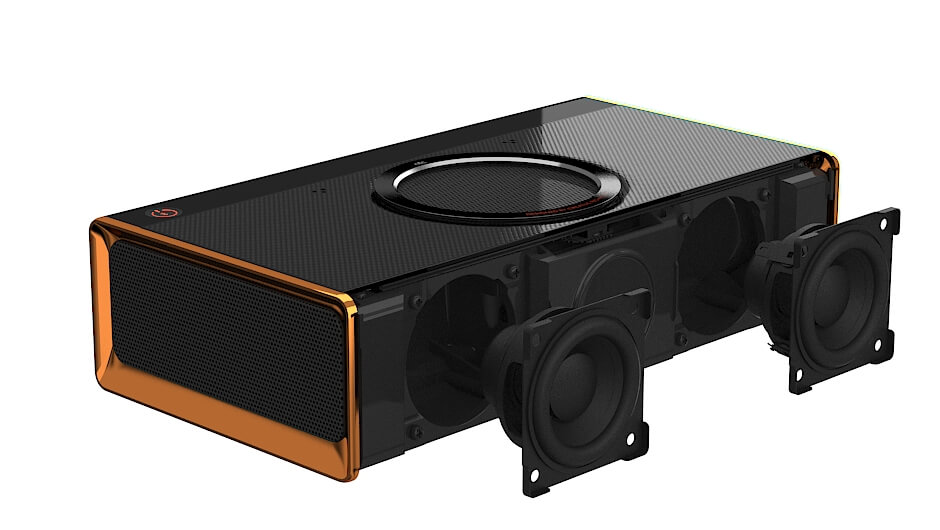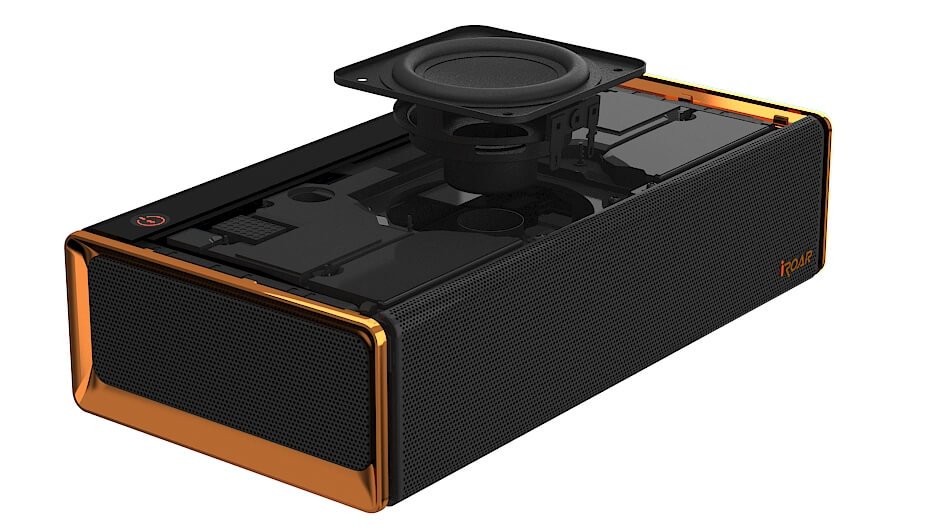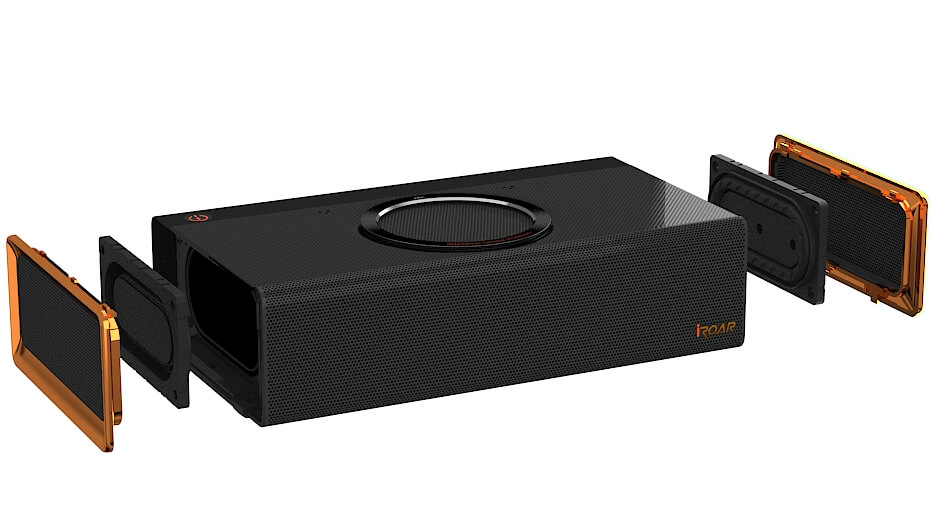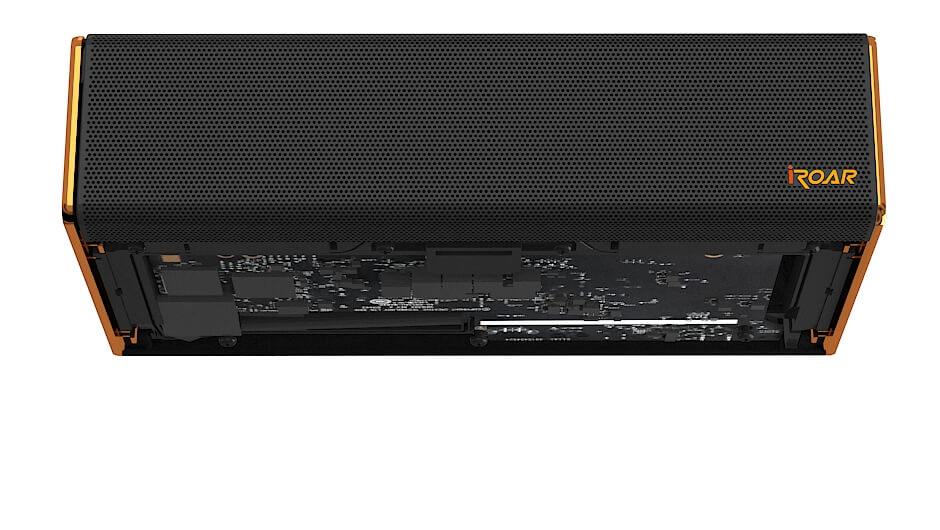 Clean, Powerful Bass
The active 2.75″ driver pumps out impressive bass. Directing the audio upwards not only stabilises the speaker, but also provides for a wider soundstage that doesn't require the listener to be situated in the audio sweet spot.
Acoustically Optimized Speaker Design
The rigid monocoque endoskeleton chassis has fewer internal components that vibrate individually. This translates into lesser energy wastage and better audio quality.
Even More Bass Enhancement
It is further enhanced with dual opposing, side-firing passive radiators that widen the soundstage dramatically.
Powerful, High Frequency Drivers
Durable and lightweight improved high frequency drivers deliver balanced highs. These dual 2″ premium drivers are also designed to provide far-field high frequency dispersion.
SB-Axx1™ Digital Audio Processor
Of course, such a collaborative sound system wouldn't be made possible without the intelligence of our proprietary processor, SB-Axx1™. The SB-Axx1 is an audio Digital Signal Processor (DSP) that enhances your audio experience with clarity.
A custom-built audio processor is utilised across all our top performance Sound Blaster products such as the Sound Blaster ZxR, Sound Blaster X7 and the Sound Blaster E5, SB-Axx1 processor provide the computing power required by the iRoar to enhance your audio in real time, giving you superior listening experience for your music, movies and voice calls.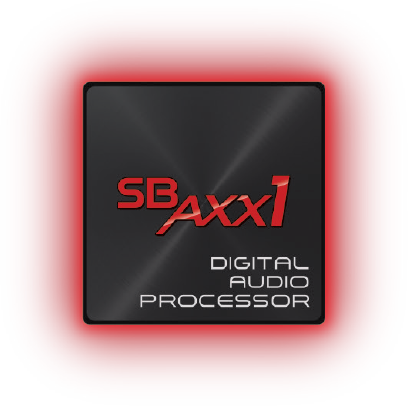 Bi-amplified Design: Two Amps, Not One
While many other portable speakers produce small, constrained sound, the Creative iRoar is designed to deliver powerful space-filling audio. Most portable speakers utilise a single amplifier to reproduce the entire audio spectrum. With the traditional single amplifier design, much demand goes into reproducing the lows and mids, which compromises the delivery of the highs.
Through much research and development, the iRoar is designed to accommodate 5 speaker drivers, including a active 2.75″ driver, into a compact booklet-sized form factor. Dual lightweight high-frequency 2″ drivers project far-field high-frequency dispersion while a top-firing active 2.75″ driver pushes bass outwards; and this is enhanced by two side-firing, opposing passive radiators that spreads out the bass even further. The compact powerful iRoar also features 2 high-performance amplifiers - one dedicated to driving lows and mids, another solely for delivering highs - producing clear, spacious, well-balanced audio without compromising on the bass.
AUDIO PERFORMANCE
Space-filling Dispersion
The result of all this is that iRoar is able to deliver powerful room-filling audio that is not sweet spot-dependant. When it comes to the speaker stability at high volume levels, the iRoar comes second to none; unlike top-heavy, front/rear-designed speakers that vibrate and move position at high volume levels, the iRoar is stable as a rock even while blasting at maximum volume.
Designed for acoustic performance, the top-firing active 2.75″ driver is laid horizontally which increases stability while its rigid monocoque endoskeletal chassis reduces internal components that can vibrate individually. So what you hear is pristine music from an extremely stable speaker, free of annoying vibrations and rattle.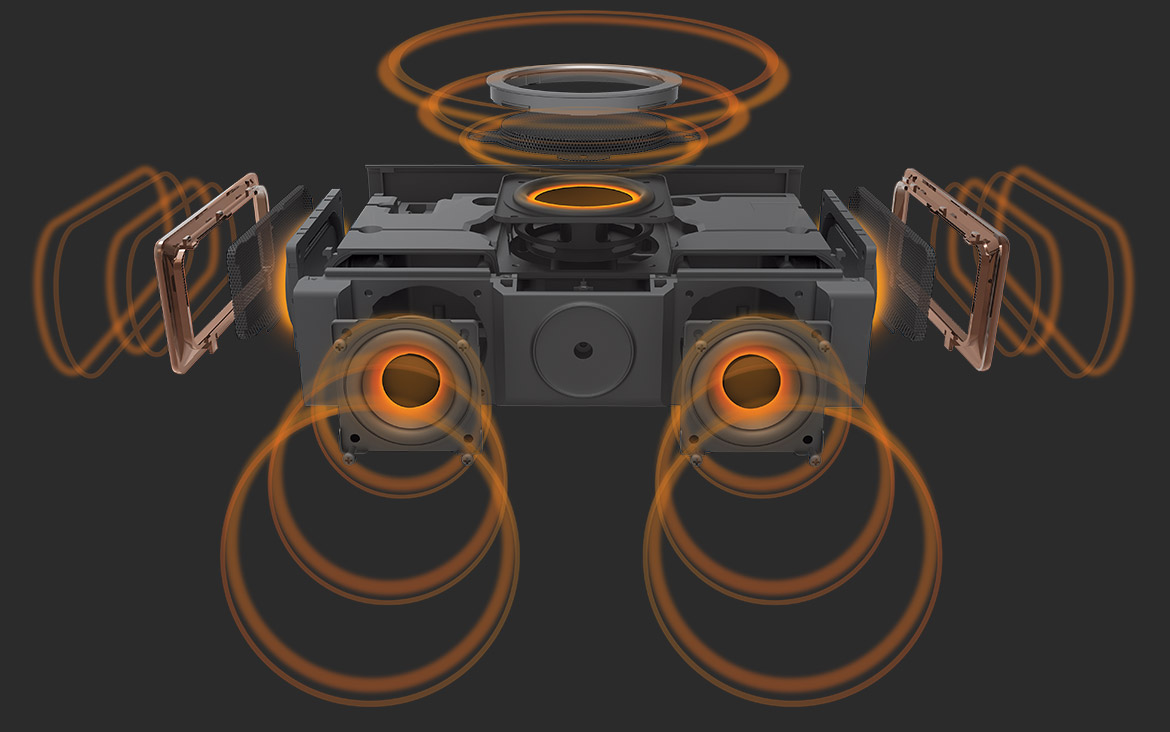 ROAR Mode: Instant No-holds-barred Audio Power
Don't be fooled by its size. By default, it produces balanced, high-fidelity audio. And in scenarios where sheer audio power is needed - in large parties and social gatherings, for instance - users can press the ROAR button that instantly boosts the loudness, depth and spaciousness of the audio.
All you need is to tap on the ROAR button and let the iRoar take care of the rest.
TOUCH CONTROLS
Intelligent Touch Controls
Intelligent Touch Controls are adaptive and context sensitive based on the selected mode of the speaker. The relevant buttons light up to show the relevant controls that matter to you.

IROAR MIC
Next Generation Wireless Personal PA System
Specially made for professionals, this powerful Bluetooth speaker doubles as a wireless personal PA system, helping you deliver a compelling performance in your presentation, conference, classes, or even karaoke sessions! Simply connect the iRoar to the iRoar Mic (sold separately), and you are all ready to take the stage.
Lightweight Unidirectional Mic
Weighing at 30 grams and with a battery life of up to 10 hours2, the iRoar Mic can be held, clipped or hung for versatile and convenient speech delivery and performance. The iRoar Mic also comes with a line-in jack that allows you to mix music from your mobile device, giving you wireless karaoke sessions!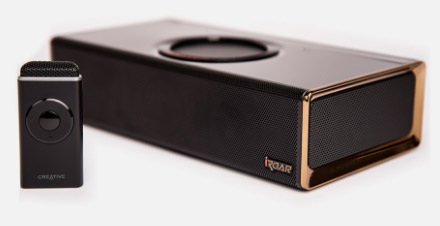 CONNECTIVITY
Bluetooth® HD Audio Playback
The iRoar supports Bluetooth aptX Low Latency codec in addition to AAC, which are advanced HD codecs that deliver high quality audio for Bluetooth transmission. These codecs — supported by branded Android phones and the iPhone, are crucial for great wireless audio and they are not even found in many premium wireless speakers. With low latency, you can enjoy your games or watch movies without delays. In other words, no interferences with your video and virtual gameplay!
Plus, the Creative Multipoint3 lets you multi-task with up to two devices connected simultaneously.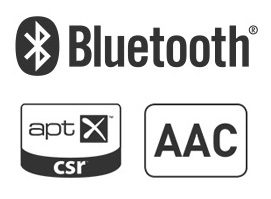 MEGASTEREO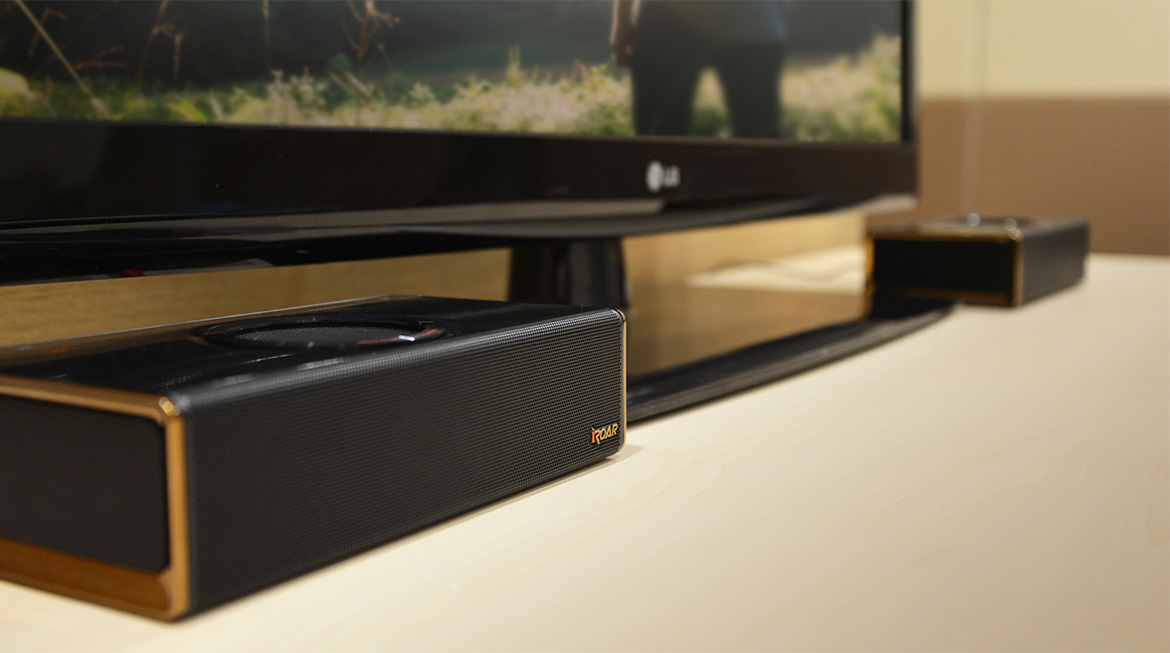 BATTERY
Fast-charge Dual Purpose Battery
The iRoar comes with a built-in 9000mAh Li-ion battery that provides up to 20 hours of playtime8. It is also able to charge mobile phones and tablets quickly with a high 1.5A output.

IROAR ROCK
Docking Subwoofer for the Creative iRoar
Designed to unleash the full potential of the iRoar, the Creative iRoar Rock (sold separately) is a powerful docking subwoofer that is part of the iRoar Ecosystem. Get more out of your audio when you dock the iRoar via the Docking Expansion Port. This feature further extends and enhances the mid-range, bass and surround performance of the iRoar. Quick and simple, the iRoar Rock also acts as a wireless charging solution for the iRoar without any fuss.